Center for Nonviolent Communicationsm
INTERNATIONAL INTENSIVE TRAINING
Italy, July 15 - 24, 2022
Discover skills that will help you improve the quality of your relationships, deepen your inner peace, and increase your contribution in the world.
Join us to be part of a compassionate community learning together how to speak from the heart;
practice deep, non-judgmental listening; and build self empowerment from the inside out.
This event is a 9-day residential training designed as an "immersion experience" in Nonviolent Communication (NVC) led by a team of experienced CNVC certified trainers.
The purpose is to offer you the opportunity to live the process of NVC in community over an extended period of time, in order to develop the mindsets and practical tools.
Seminar Language: English.
Trainer Team:
Trainer: Giacomo Poleschi
A a Certified trainer with the Center for Nonviolent Communication, I love sharing NVC by facilitating workshops and supporting individuals and groups.
In family contexts, education or corporate, I offer training, parenting support, coaching and personal development, NVC mediation, facilitation of groups. In Italy, I collaborate with the Centro Esserci – NVC workshop center and publishing house and with the non profit organization and educational project www.parlarepace.it inspired by NVC and Montessori education. I met CNV in 2012 just as my wife and I were waiting for the birth of our first daughter. I was immediately struck by the possibility that NVC offered me to try to experience parenthood and relationships in a completely different and meaningful way for me. Since then I started my journey to learn and live NVC.
In 2014 I quit my job to spend one year and a half with my daughter as a "full-time dad".
In 2016, inspired by putting into practice my learning with NVC to create a different workplace, where people could experience authentic collaboration and pleasure to work together, together with my wife and some friends, we created "In Pasta – cibo e convivio" an artisanal pasta laboratory and restaurant. Today up to 10 people works there.
I'm graduated in Computer Engineering and I worked in the past in the field of Supply Chain and Logistic.
Today, besides offering trainings in nonviolent communication, I share the care of my children.
I live with my wife and our three children by the west coast in Tuscany, Italy.
---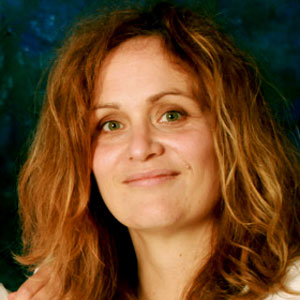 Trainer: Gabriele Grunt
Gabriele has been working as a trainer with children and adults for almost 30 years. Born in Vienna/Austria she studied cultural anthropology and worked in international and national projects, workshops and NGOS that deal with power imbalance, racism, enemy images and restorative justice.
In her work Gabriele enjoys exploring different ways of reaching people, learning and working together – focussing not only on individual learning but on how to enable each of us to transform the structures we live in and create a more satisfying quality of connection.
As a CNVC-certified trainer Gabriele shares NVC in different kinds of organizations in the field of education, economy, justice, health and in residential communities with individuals and teams of varying sizes. In many long term projects in schools, universities, organisations, communities and companies Gabriele supports people to consciously choose ways towards understanding, cooperation and peaceful conflict dialogue – and step by step to co-create structures that support partnership, mutual empowerment, new ways of leadership and inclusion in learning and working environments. www.echt.info
---
Trainer: Father Chris Rajendram
Christlin Parimalanathan Rajendram is my full name. Born in 1943 in Batticaloa on the East Coast of Sri Lanka, as fourth of the 8 children, I joined the Jesuit Religious Order in 1960 was ordained a Priest in 1973. Met Marshall Rosenberg in 1996 and Nonviolent Communication gave me a new perspective on all that I was doing, specially my spiritual path. I have learned to look at my life and the lives of others in a new light. I am enjoying my learning and sharing. When you don't want to change, everything changes; when everything is falling apart they are all falling in place……there is nothing to throw away and nothing to discard…everything makes sense, whole.
---
Trainer: Dr. Phil. Karoline Bitschnau
For me, non-violent communication is a way of connecting and uniting myself with my own needs and values, in order to then appreciate the needs and values ​​of other people in a loving way. The goal is a lively connection and mutually nourishing relationships. Nonviolent communication has made my life much easier and enriched and is an important basis for me to live my life vision.
---
Venue:
Trentino Alto Adige, Castel Coldrano
More information to follow.
****Attendance at an IIT is a request of those who wish to become CNVC certified trainers, and it is highly recommended to anyone who wishes to share NVC, whether you want to be certified or not. more info here